Six Bridges
Six Bridges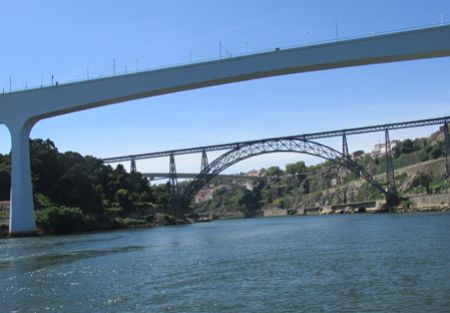 In this fantastic cruise you will know the six magnificent bridges that join the two banks of the Douro River:
D. Luís I Bridge, Infante Bridge, D. Maria Pia Bridge, S. João Bridge, Freixo Bridge and Arrábida Bridge

Enjoy the trip and observe the main points of interest that the view allows to reach:
· Ribeira Historic Area
· St. Francis Church

· Stock Exchange Palace

· Customs of Porto

· Port Wine Museum
· Church of Massarelos
· Foz do Douro
· Afurada (Fishing Zone)
· Crystal Palace
· Electric Car Museum
· Gaia Pier
· Port Wine Cellars
· Monastery of Serra do Pilar
Children up to 3 years old: Free.
Children from 4 to 12 years old: 50% Discount, whenever accompanied by parents.
* Subject to availability and change.
CZ
Duration
Boarding Location
Landing Location
Schedules
Prices
00:50
Porto
Porto
Porto | 10:30
Porto (abril a outubro) | 11:00
Porto | 11:30
Porto (abril a outubro) | 12:00
Porto | 12:30
Porto (abril a outubro) | 13:00
Porto | 13:30
Porto (abril a outubro) | 14:00
Porto | 14:30
Porto (abril a outubro) | 15:00
Porto | 15:30
Porto (abril a outubro) | 16:00
Porto | 16:30
Porto (abril a outubro) | 17:00
Porto (abril a outubro) | 17:30
Porto (abril a outubro) | 18:00
Porto (abril a outubro) | 18:30

Adult - 15€
Child - 7.5€

Duration
00:50
Boarding Location
Porto
Landing Location
Porto
Schedules
Porto | 10:30
Porto (abril a outubro) | 11:00
Porto | 11:30
Porto (abril a outubro) | 12:00
Porto | 12:30
Porto (abril a outubro) | 13:00
Porto | 13:30
Porto (abril a outubro) | 14:00
Porto | 14:30
Porto (abril a outubro) | 15:00
Porto | 15:30
Porto (abril a outubro) | 16:00
Porto | 16:30
Porto (abril a outubro) | 17:00
Porto (abril a outubro) | 17:30
Porto (abril a outubro) | 18:00
Porto (abril a outubro) | 18:30

Prices
Adult - 15€
Child - 7.5€

Route
REQUEST