Tua-Pinhão on a Kayak
Tua-Pinhão on a Kayak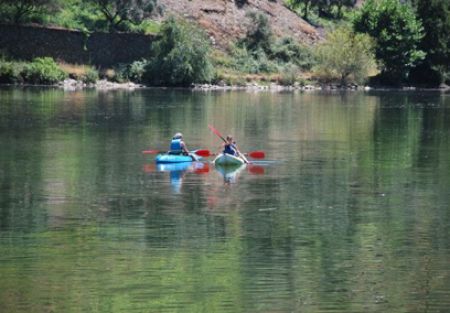 Kayak descent on the Douro river from the mouth of the river Tua until Pinhão, covering a distance of 12 Km.
Paddle down the Douro River, savouring the silence, stunning vineyard landscape, refreshing and calm water of the Douro river.
We take you on a boat to the mouth of the river Tua, a one hour ride up the Douro river covering the section that you will be doing down on a kayak. Like this you get to know the river and can plan your kayak return trip (stops, beaches, swimming, ....).
Bring a snack or we provide you one.
Duration: 1 + 3 hours approximately.
You can freely extend the usage of the equipment for 6 hours.
The realization of the experience requires confirmation.

LFC
Duration
Boarding Location
Landing Location
Schedules
Prices
04:00
Pinhão
Pinhão
Pinhão | 10:45
Pinhão | 14:45

- 55€
- 75€

Duration
04:00
Boarding Location
Pinhão
Landing Location
Pinhão
Schedules
Pinhão | 10:45
Pinhão | 14:45

Prices
- 55€
- 75€

Route
REQUEST